I know it sounds cliche, but I'm not even sure where the last month has gone. Its weird, with a newborn (can I still call him that?), it's like time travels as wharped speed, but, so much happens during that time period. Grayson has started to smile and coo. It's heart melting.
Our Schedule
Our other biggest accomplishment during month two is getting on a schedule. If you can't tell or don't know, I'm typically a Type-A person. I'm trying really hard not to be a Type-A parent, but having a schedule has been such a sigh of relief for me. I've been able to know when Grayson will nap and have been able to schedule appointments like the dentist and a haircut during these nap times with no issues.
One of my new friends who is also a new mom (her daughter is 10 days older than G), mentioned using
Babywise
scheduling. I had the book but not read into it yet. Once we talked more, I was so intrigued, I decided to read more when Grayson was six weeks old. The fundamental concept of Babywise is for parents to use the clock combined with their digression (looking for cues from baby) for a cycle of feed/wake/sleep. People have been shocked when I've mentioned waking a sleeping baby, but when I'm waking him for food, he's never angry :) By waking him and immediately feeding, that allow him to use his energy to be an efficient feeder. He typically nurses for 15-20 minutes total. After feeding, he stays awake for about 40 minutes (so at this age his total awake time for one cycle is roughly an hour). Most times it becomes obvious when he's ready for a nap. He'll continually yawn, flutter his eyes or cry for no reason.
My goal is to have him nap at least two or three times a day in his crib, which sometimes is challenging because I like us to be on the go and he's guaranteed to nap in his car seat. For daytime naps, I close the blinds and shades, swaddle him and lay him in the Dock-A-Tot in his crib with a pacifier and noise maker (see below for some of my favorite first two month baby items). I stand over his crib and hold his paci until he has it secure and then I leave the room. He rarely instantly falls asleep. He will whimper and cry a little, but typically is asleep within 5-10 minutes of me leaving the room. We're okay with little him cry this little bit to soothe himself (I've read that even at this young age, babies will cry before sleeping as a way to release some of their energy).
So our typical day schedule is something like this:
6:30am - wake for the day and feed
7:30am - down for nap (this gives me time to pump and make coffee)
8:45am - wake for feed (this morning feed gets a little skewed because I started doing workouts this week with Stroller Striders and I want him to nap during my class)
9:30am - nap
12:00pm - feed
1:00pm - nap
3:00pm - feed
4:00pm - nap
5:30pm - feed (as we approach evening we try to feed slightly closer together to fill him up for overnight). This feed is typically a bottle feed given by Ben of pumped milk. We wanted to make sure he would take a bottle for caregivers/babysitters). After his bottle, I pump.
6:30pm - nap
8:00pm - wake, change into pjs (nightgown and swaddle) and fresh diaper, feed. He will nurse himself to sleep.
The overnight is where we've been struggling a little. According to Babywise, once baby hits 5 weeks, they have the capability to sleep every hour for every week old they are. So, I set my alarm for a late night feed at midnight and technically after this Grayson is capable of sleeping until our 6:30am wake up, but he's still in the habit of waking up around 3:30am (which used to be our middle of the night feed time until we dropped it at 7 weeks old). Our pediatrician said we're doing the right thing to not feed at this time anymore and try to soothe him instead. I have my fingers crossed his body gets the memo before I go back to work at the beginning of December!
My Post Partum
I have been happy with my physical and mental changes coming into motherhood. I have been so lucky to find a group of women who also are at the same phase of their lives that live nearby and I can share my maternity leave with. It's been SO nice to have people to discuss accomplishments, challenges and vents with! Not to mention, go out in public with so we're not stuck at home. We met via a Facebook group for mom's in our neighborhood back in June and have just kept the relationships going.
I mentioned in our schedule, one of our friends told us about Stroller Strides and just this week I've signed up and been getting back into exercising on a regular basis (before this, I was doing walks and runs about three times a week)! Even though I'm still breastfeeding, I hit a weight loss plateau. If you've followed my body adventure, I worked really hard during 2016 to lose weight (approximately 30 pound) and get my body healthy in advance of pregnancy. I know it took nine months to put on the baby weight, but I am ready to say goodbye to it sooner than that!
Favorites
I want to share (and document for myself for future pregnancies) some of my favorite items this far for both mom and baby.
Baby Favorites at Two Months
Initially the first month or so, I wasn't sure the Dock was worth the hefty price tag. We didn't seem to use it all that often, but looking back, I think a large part of that was that we let Grayson fall asleep whenever, wherever. Now that we have a nap routine, he sleeps most of his naps in his Dock.
He also will sleep longer overnight if in his Dock. I know there's a lock of controversy over it's safety but Ben and I decided we are comfortable with using it. It's been especially handy for those times when we can't soothe him back to sleep overnight and we bring him into bed. The Dock-A-Tot was designed as a co-sleeper, so if Grayson can't fall back asleep, we'll place him in the Dock between us and hold his pacifier for him; usually within five minutes he's back asleep.
We were gifted this armless, double zipper swaddle and it's been awesome! It's like a little cocoon for him. He can't sneak out his arms (like in other swaddles) and the double zipper it so convenient for late night diaper changes where you can open the bottom zipper and keep his arms swaddled. We pretty much us this swaddle every night paired with a sleeping gown for easy diaper access.
Most people have heard of Happiest Baby on the Block or the "5 S's"; well, at 3am when you're standing over a crib and "shhhhing" for five minutes or more, your mouth (and body and mind) are extremely tired. The Shusher does the shushing work for you. When I first saw this, I thought it was the stupidest idea ever, but after a few nights of shushing, we added this to our registry and now we use it as a nose machine for every nap and every overnight sooth. It's more or less a portable white noise machine (although Spotify has some great playlists for that too).
Honorable mention is our BOB Revolution stroller and Ergo 360 Infant Carrier. Since we're active people, these have both been great outdoors. We love the BOB for it's shocks on our awful neighborhood sidewalks and for runs. We love the Ergo for hikes. He always falls asleep in it!
Mom Favorites
As I've mentioned, I'm still breastfeeding and continues to go well. I have found some nursing friendly items that I wear/use on a daily basis.
Number one most important item! I had put one on my registry but it wasn't purchased. The first night in the hospital I had to pump and immediately understood why they are recommended! I hopped on Amazon and it was delivered to our house by the time we were released from the hospital.
I'm always wearing either one of these tanks or one of these bras. The fabric is soft and stretchy that offers support, but they're not so tight that they make me feel awkward with the leftover baby weight. The bras do have foam cups that can be a little bit annoying; but the bra is so comfortable and affordable, I don't mind the nuisance.
This night gown is non-maternity/non-nursing; but it works for both. I wore this throughout my pregnancy. I also have continued to wear them now because they offer support and the strap is easy to drop down your shoulder for nursing. There is a maternity version, but it's a shorter length. I preferred this length to cover my bump. (I ordered my regular size; small).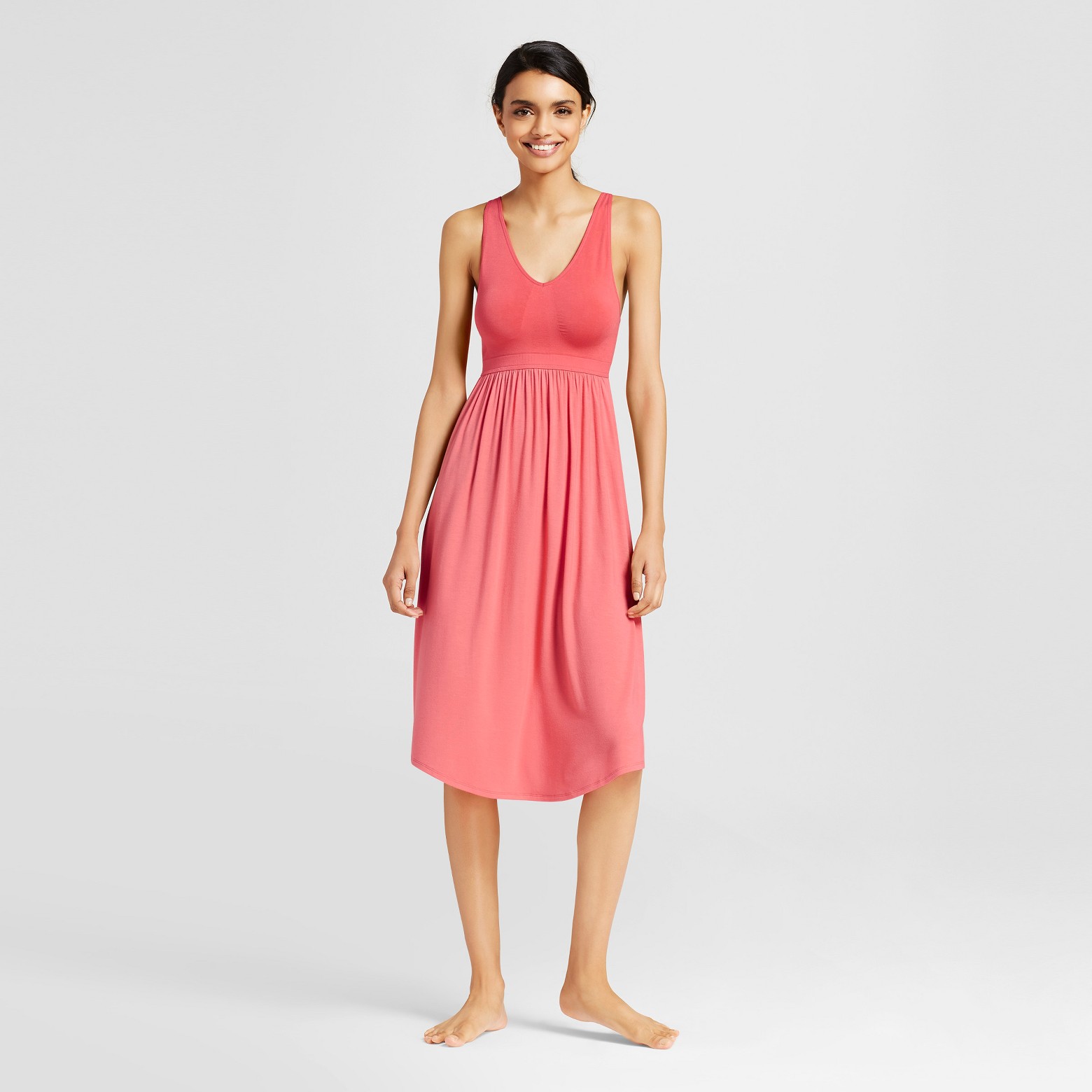 Target considers these nightshirts, but I wear mine all of the time. They come in short and long sleeved, but sell out quickly, so I would frequently check the website for them. Now that the temps are cooler, they're perfect to wear during the day with a cardigan over them and you can't tell at all that they're nursing tops then. I also love the longer length in the back to cover your booty. The fabric is really soft, but I have noticed it's easy to catch and snag if you're not careful. The sizing is pretty generous that I own these tops in both extra small and small.
That's all for my favorites! But what would a two month update be without some pictures taken over the last month?