I mentioned
yesterday
that I had brought in 12 ingredient cookies to celebrate the date of 12-12-12. At approximately 12:12pm, I sent out an email to my group that there were cookies at my cube. Not surprisingly, they came, they
conquered
devoured and they left.
I've struggled to find a monster cookie (does anyone know why they're called "monster" cookies in the first place?) that I really like.
This recipe
from Something Swanky (slightly adapted since I don't use shortening), make take the cake....err cookie! Although they're still a little flatter (is that a word?) that I would prefer.
Ben was skeptical these would be good (he'd requested I bake
chocolate chip cookies
), but I told him once he took one bite of the dough, he'd love me even more. He proceeded to eat three cookies immediately when they came out of the oven.
12 Ingredient (aka Monster) Cookies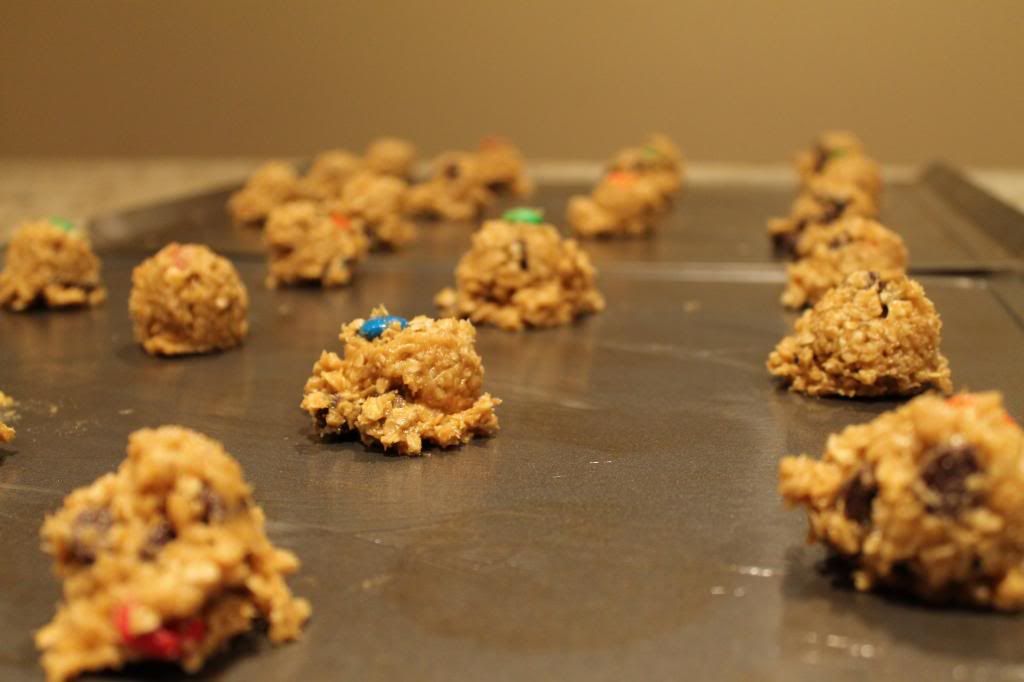 Ingredients:
Makes 4 dozen
1 stick (1/2 cup) softened butter (soften at room temp)

1 cup brown sugar
1 cup white sugar
3 eggs
1 teaspoon vanilla
1 tablespoon corn syrup (I will probably omit this next time around)
4.5 cups oats (I used quick oats)
2 teaspoons baking soda
1.5 cups peanut butter
1 cup plain M&Ms (although...peanut butter would be delicious!)
1 cup semi-sweet chocolate chips
Directions:
Preheat oven to 375FIn a large bowl, combine butter and sugars

Mix in eggs until fluffy

Mix in vanilla and corn syrup

Add oats, baking soda, and peanut butter; stir as minimally as possibly (just enough tomix everything together)

Add M&Ms and chocolate chips

Place by spoonful onto pregreased cookie sheet (this is a must! I "lost" a few cookies due to sticking to the pan; I use this small size cookie scooper and the cookies still spread a good amount)
Bake for 9 minutes; let sit on pan to cool once out of the oven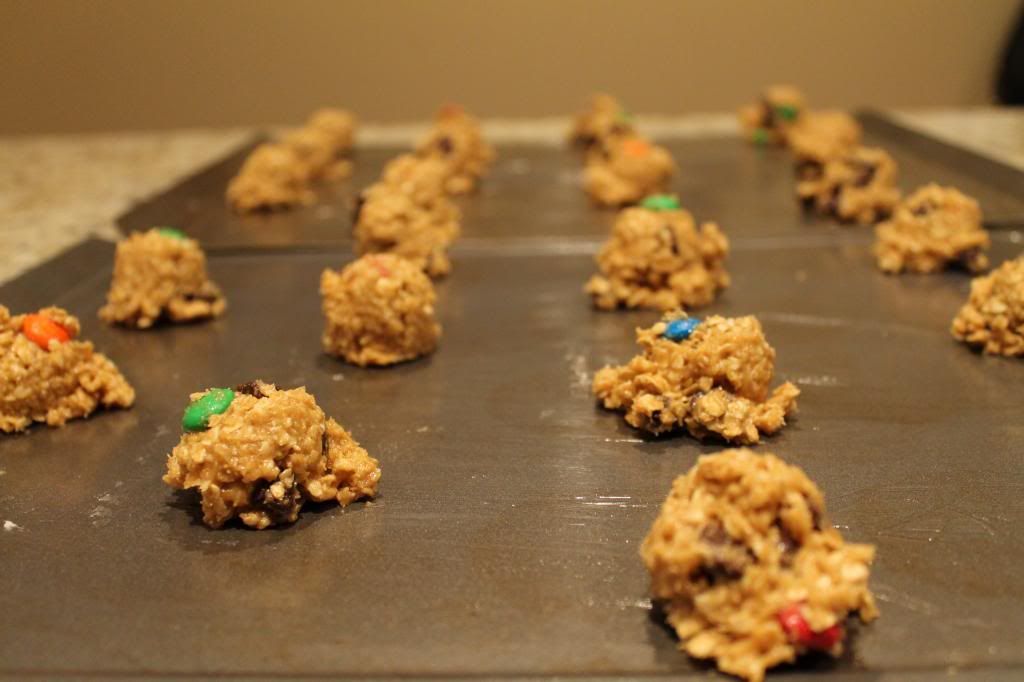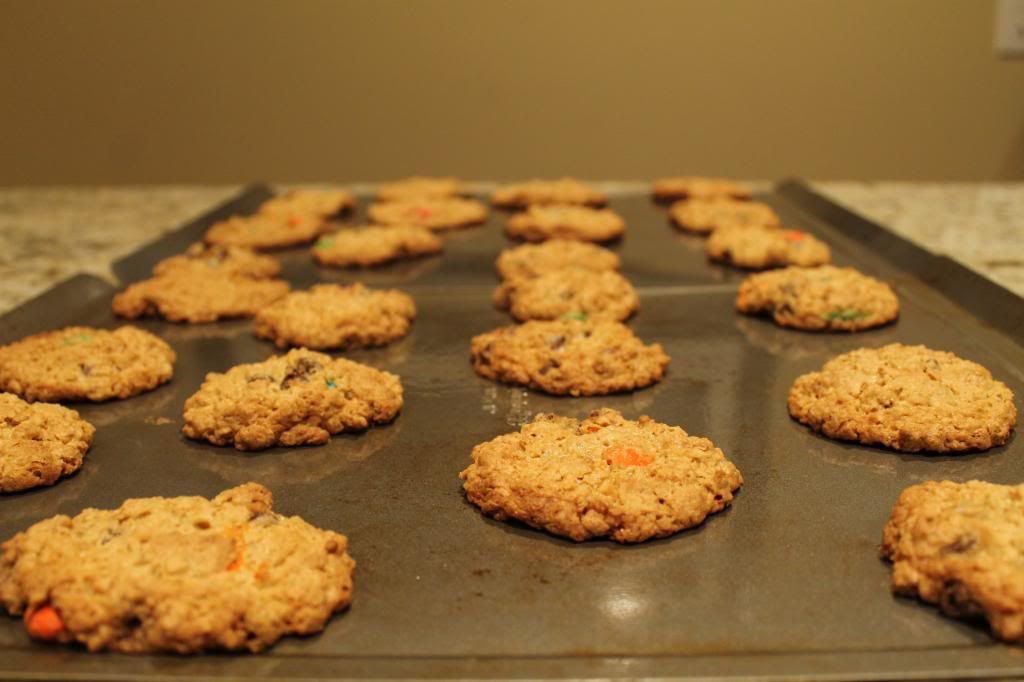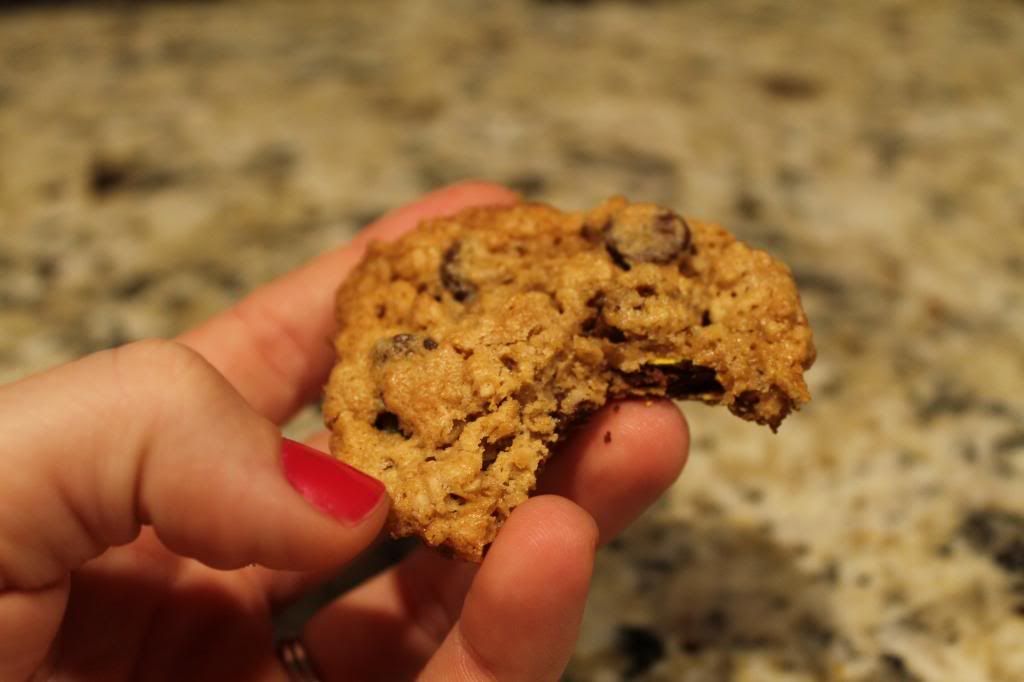 Now I wish I had some of these left to snack on after typing up this post.