Let's wrap up telling you about NYC.
As you might have been thinking,
NYC Day 2
, involved a lot of drinking in the afternoon/evening. Good things typically don't happen when drinking and bad things happen to good people. What am I trying to say here? Well, we woke up Monday morning and were getting ready to head out for the day when I realized my DSLR wasn't in my purse.
After scouring the room, the verdict was that I had left it somewhere. Immediately I hopped on
NYC's taxi website
to report a lost item. Unfortunately we'd paid in cash, so I could track down a cabbie ID number. It was only 9:30am, so too early to call any of the places we'd visited.
Heavy hearted (but not heavy-bagged, due to missing camera), we headed to Chelsea neighborhood (I believe), to get breakfast at
The Grey Dog
. I'd come across it recommended on another blog and several internet searches echoed that this is one of the best breakfast/brunch options in the city. We visited the 16th St location, hoping not to be proven wrong.
The Highline
, which is a "park" developed on old elevated railroad tracks. It was fairly desolate as it was a chilly Monday morning, but to us it was entrancing and something different. To the west we got a view of Hudson River, including Chelsea Pier, the multi-level, golf range always shown in movies and to the east were great views of NYC.
John's Pizza
HAD MY CAMERA! Can you believe it?! We couldn't either!
We hopped on the subway and headed straight there. I was so excited that I hugged the Italian speaking chef when he gave me my camera. He was stunned and I was happy. It was contagious. I said to Ben, maybe the reason they returned the camera was that the last picture I had taken was of their pizza.
Piperlime's
first store in SOHO. I was pretty impressed with the store layout and feel. Obviously they have a bazillion things online so they can't carry them all in store, but they still have a huge selection, much like a department store.

After that we headed over to
C. Wonder
flagship store on Spring Street. I'd stumbled upon their website during the holiday season; somehow I'd forgotten that I had heard about the company previously. It was started by Tory Burch's ex-husband; which could explain why some of the items remind me of her stuff. Luckily they had a couch for Ben to sit on while I perused. The store is huge and everything is adorable!

I would obviously love any store that has this
dog print fabric as their dressing room curtains.
I limited myself to a cardigan that was on sale and an pave "H" cuff.

Although I have to say I am disappointed in the quality. Within 2 weeks of wearing it, one of the crystals feel out. I contacted customer service and received a prompt reply that the issue was forwarded to SOHO store and I would be contacted shortly. A week passed and I hadn't heard anything so I contacted CS again and then within a matter of minutes I was contacted by SOHO management for my address to ship a new one and told that I'd be given a return label to return the damaged item. Now that's what I call customer service!
By the time I ended at C. Wonder, we were both getting a bit hungry. I decided to take us to
Pepolino
, which is an amazing little Italian restaurant off Canal St (this is where "Louis Vuittons" and major knockoffs are sold; it's quite an experience. On both of my previous trips to NYC, I visited the "hidden" rooms in the back of the stores to pick out a knock-off). Of course, once we go there, Ben decided he wasn't in the mood for Italian (men!) so we wandered a round a little bit until finding a bar called
Walker's
.

We instantly could tell it was full of locals, which is Ben's tell-tale sign of a "good" spot. It was okay, but not great. The server was too busy sitting down with the locals to bring us water, even though we asked repeatedly. She brought our waters
after
she brought the bill. However, I have to say the food was delish!


As we ate our lunch, we debated on what we wanted to do that afternoon and evening. Being that it was our last night in NYC, and we hadn't done much on the other evenings but drink, we decided we would either go to a Broadway show or indulge in a Restaurant Week dinner.
We looked on
TKTS website
. TKTS is a company that sells day-of discount tickets for Broadway and Off-Broadway shows. There are three locations for their booths, the most popular being in Times Square (when you see the large line of people standing near the stadium type seats odds are this is why they're there). Theatre Development Fund (TDF) operates the TKTS booths and can offer over 50% off tickets. The website shows what shows are available that day and what the percent discount is.
We noticed that Phantom of the Opera was 50% off retail price, but being the ever-indecisive couple we are, we decided to take the subway to Times Square and think about it on the way. However, when we got there, we still weren't sure what we wanted to do, so instead we walked around and debated.
We walked over to Rockefeller and went down into the food court. What better way to ponder a decision than over a delicious chocolate chip cookie? During my NYC planning searches, I'd come across a recommendation for Jacque Torres chocolate chip cookies. They are utterly amazing. Ask for it warmed; you won't regret it.
While eating our cookies, I looked up tickets on Phantom's website. Prior to the trip, we'd contemplayed buying back-row upper seats for $70 each after fees. They were sold out when I checked. After much debate, we decided to go stand in line at TKTS and get Phantom tickets. They say to have a few options when you go to buy tickets incase your first choice is sold out, but we decided if Phantom was sold out, then we'd do dinner.
Lucky for us, after ~20 minutes around 4pm on a Monday, we got our tickets. Middle of Orchestra Section for $67 each. Wohoo! We stopped back at the hotel to pack up and change. Then decided that we should figure out where Ben needed to report for his work training the next few days and took in the sites along the way.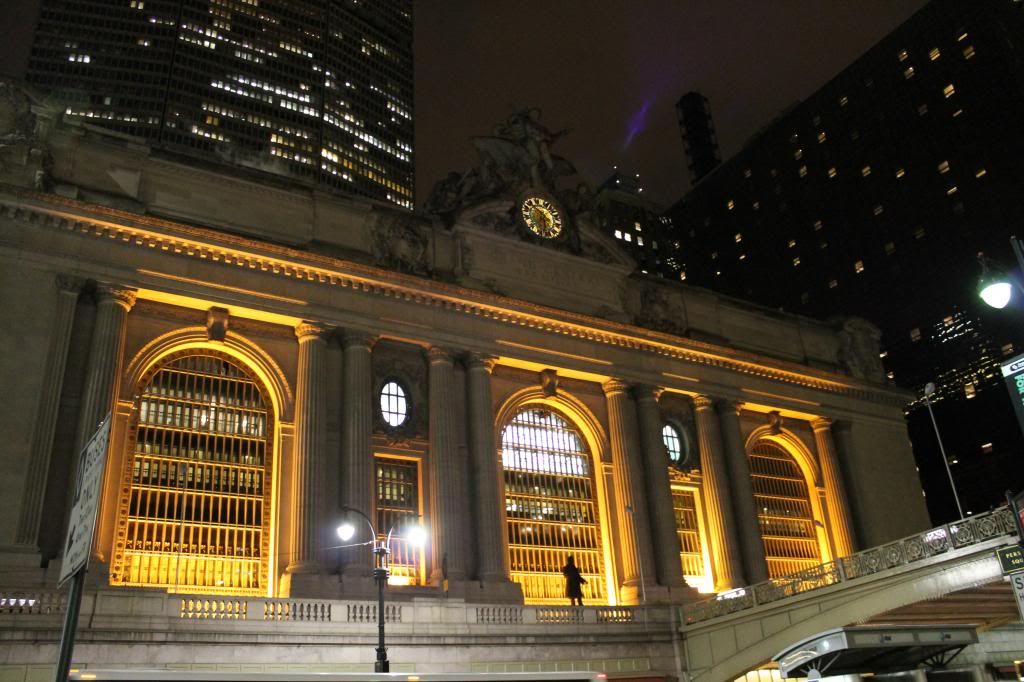 Grand Central Station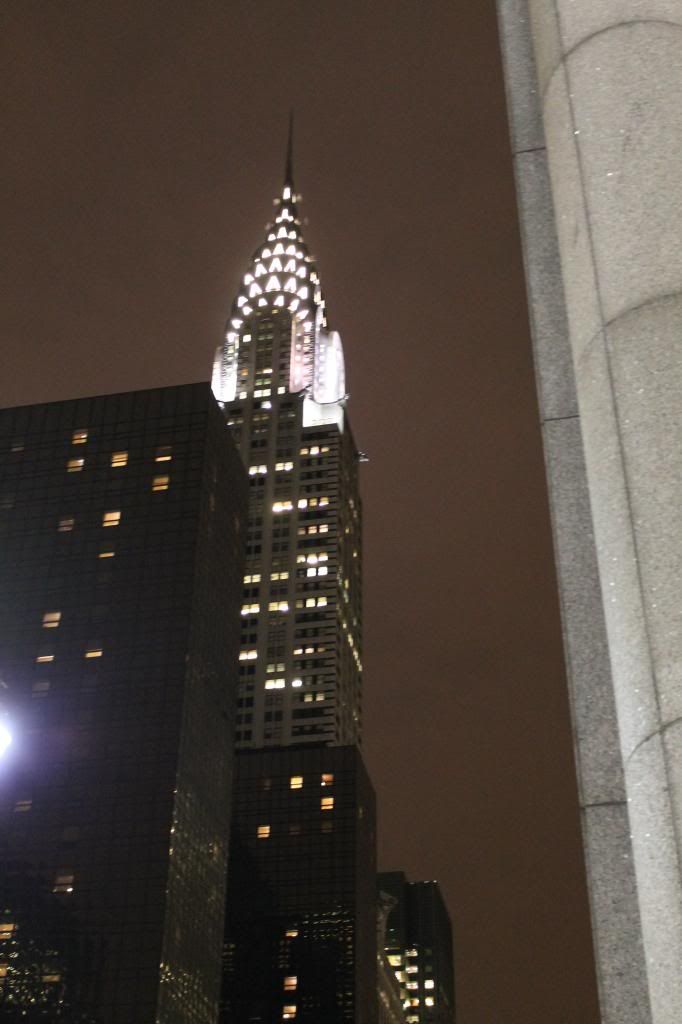 Chrysler Building

We got the the Majestic Theater 15 minutes before showtime to find a long line.
Rather than standout in the cold, we walked over to Times Square and went into Toys'R'Us, which happens to have an indoor ferris wheel. Ben was not nearly intrigued as the kids I nannied for had been. But, it was a warm spot to wait for the line to die down.
The show itself was awesome. Amazing. It was my first Broadway show and what better show to choose than a classic? Ben had see Phantom before in Chicago when he was younger, but was happy with our selection. I am so glad we opted for a show over dinner!
We were back at our hotel by 11p, which pretty much marked the end of my trip. I had a 7:45am ET flight, so I left the hotel, via cab, around 5:45am. After fare, tolls and tip, the cab ride was around $46. I was at the airport early enough to see the 7:00am flight that I had considered was boarding. I asked if there was room for me, but for the $70 fee, I said no thank you. Instead, I got a bagel bacon, egg and cheese bagel to call it a trip.
Until next time Big Apple.