I am probably one of the few Americans who typically doesn't like "Chinese food". I don't know why, when I was younger I loved it (but then again, I also drank pop and ate McDonalds when I was younger), but nowadays I would rather have Thai or sushi when I want Asian cuisine.
However, during our meal planning on Sunday, I was feeling in a slump for idea, so I turned to
Pinterest
for inspiration. Low and behold, I found a
recipe
I'd pinned that we had all of the ingredients for already. I love when that happens!
My track record with making "Chinese" food has been rather hit or miss, even as I as prepping this, both Ben and I were skeptical (at one point Ben said he wondered if he was going to regret skipping a company dinner,
thanks Ben
), but the outcome was absolutely delicious!
Sweet and Sour Chicken with Fried Rice
Ingredients
:

(Makes 4-5 servings)
Chicken
:
Approx 1.5 pounds chicken breast
Salt and pepper
2 eggs
3/4 cup cornstarch
2 Tbsp oil
Sauce
:
4 Tbsp ketchup
3/4 cup sugar
1/2 distilled white vinegar
1 tsp garlic salt
1 Tbsp soy sauce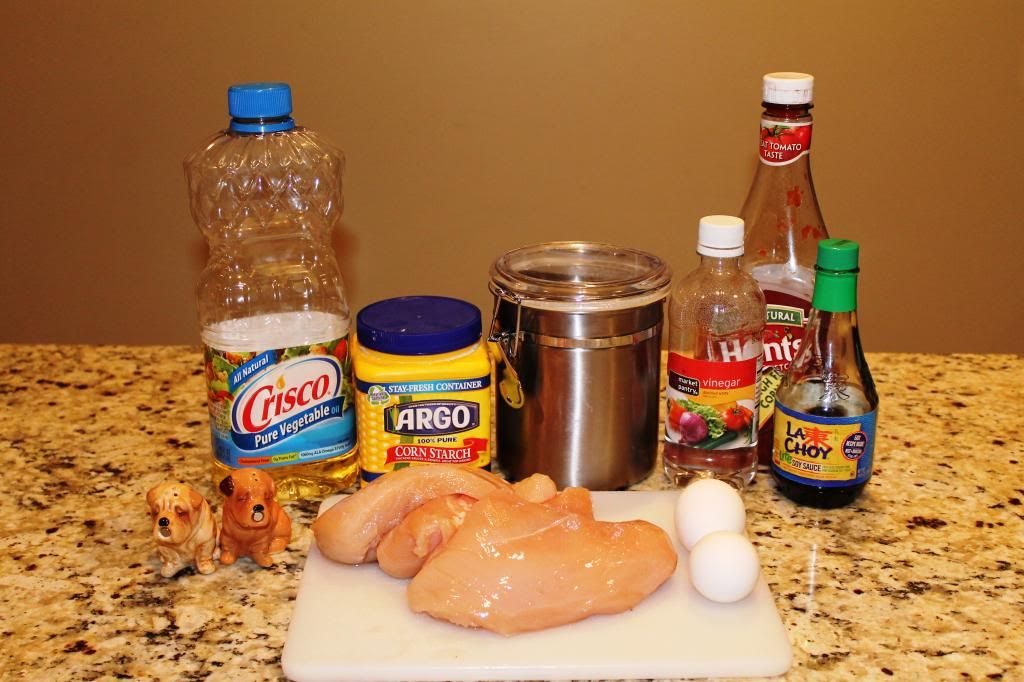 Rice
:
1.5 cups (dry) brown rice
Small yellow onion (chopped)
1 tsp minced garlic
1 cup of frozen pea and carrot mix
1/2 can of sweet corn
1/4 cup soy sauce

Directions
:
Chicken
:
Preheat oven to 350F
Make your sauce by combining ketchup, sugar, vinegar, garlic salt and soy sauce. Mix well and set aside.
Cut chicken into small pieces (1"x2")
Salt and pepper as desired (I probably used about ~1/4tsp salt and slightly less pepper
In a medium sized bowl, beat the eggs
Pour cornstarch into a gallon sized bag
Heat a large skillet to medium heat and add oil to pan
Put your chicken in cornstarch bag and shake; try to coat the chicken as much as possible
Dip a few pieces of chicken at a time into egg and then place on skillet
Repeat until all of your chicken is in pan; then continue to flip chicken as needed until browned on both sides
Place chicken in a pre-oiled 9"x13"
Pour sauce over chicken and bake in oven for 1 hour; stirring the chicken every 15 minutes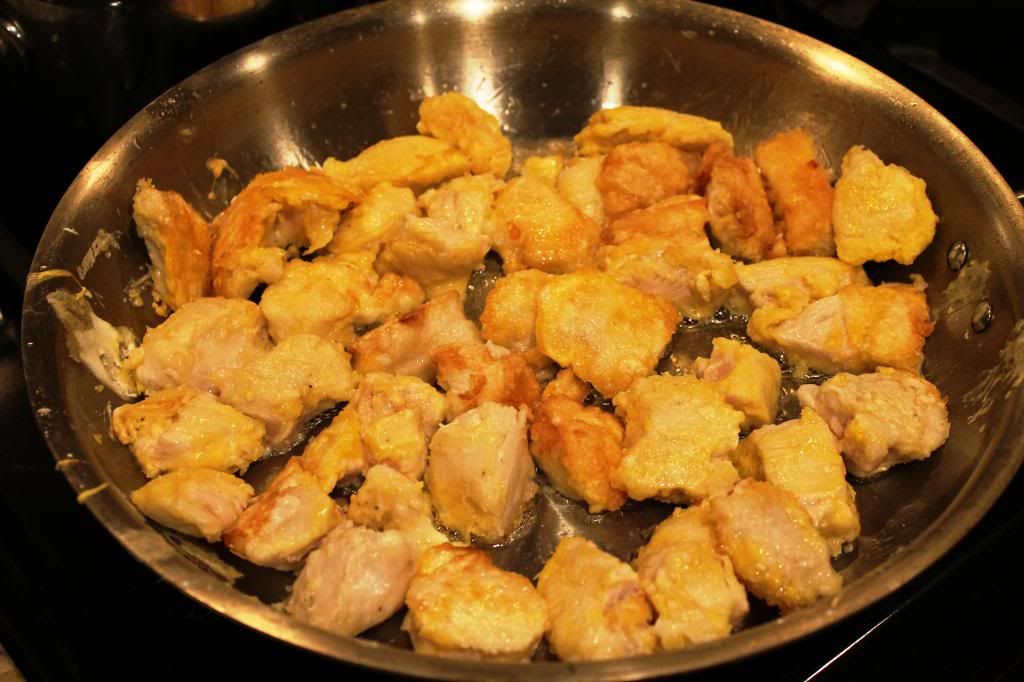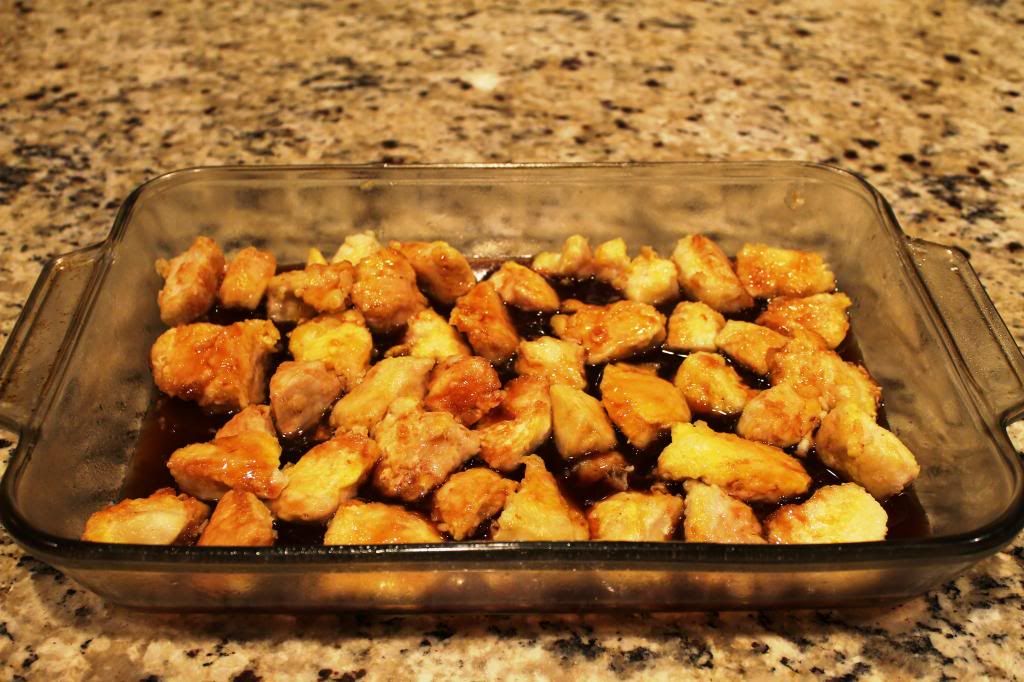 Rice
:
While your chicken is baking, you can make your rice:
Follow directions on box to prepare 1.5 cups of dry rice
Warm your used chicken skillet to medium-high heat (the pan should have enough leftover oil that you won't need to add more)
Saute the garlic, onion and frozen veggies until tender
Once tender, mix in corn, followed by rice and soy sauce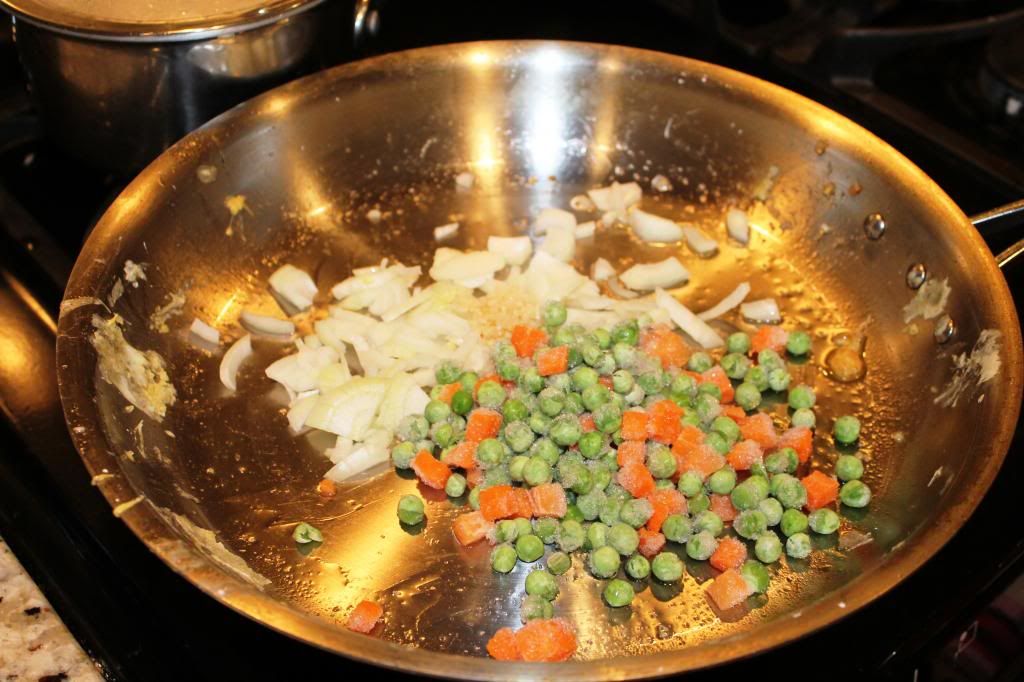 Serve chicken with rice and enjoy!