I
mentioned last week
that Friday night we had plans to babysit E&M, but what I didn't mention was that we had a fun event planned.
I get emails from
Lincoln Park Zoo
(I'm not sure why, maybe I donated at some point?) and every so often they have
Sleepover Under the Skyscrapers at the zoo
. I received an email shortly after we'd set up the babysitting date and for once, there was an event on a night we'd be together. We asked if the kids had interest; of course they did!
(Although we decided sleeping over may be a bit much and to do just the evening portion, 6-10pm.)
We arrived shortly after 6p and were led to the Small Mammals and Reptile House. There were five other families (we were told we just met the minimum amount for them to host the event). After brief introductions, we were taken to the cafe for dinner (included in the price of admission). The food was nothing special (or that tasty to be honest): mac and cheese, burgers and hot dogs.
M is camera shy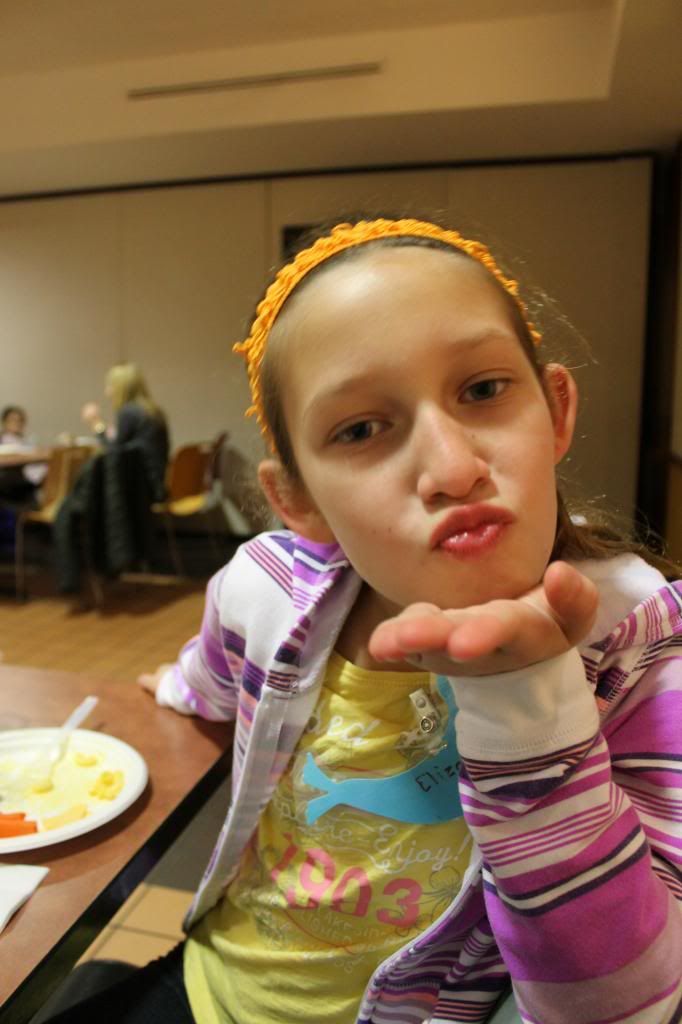 And of course, E loved it
We were told we'd have three activities for the night, the first being a visit to the primate house. There were several activities set up for the kids reflecting the life of primates.
No thumbs allowed: showing us how important (and useful) thumbs really are!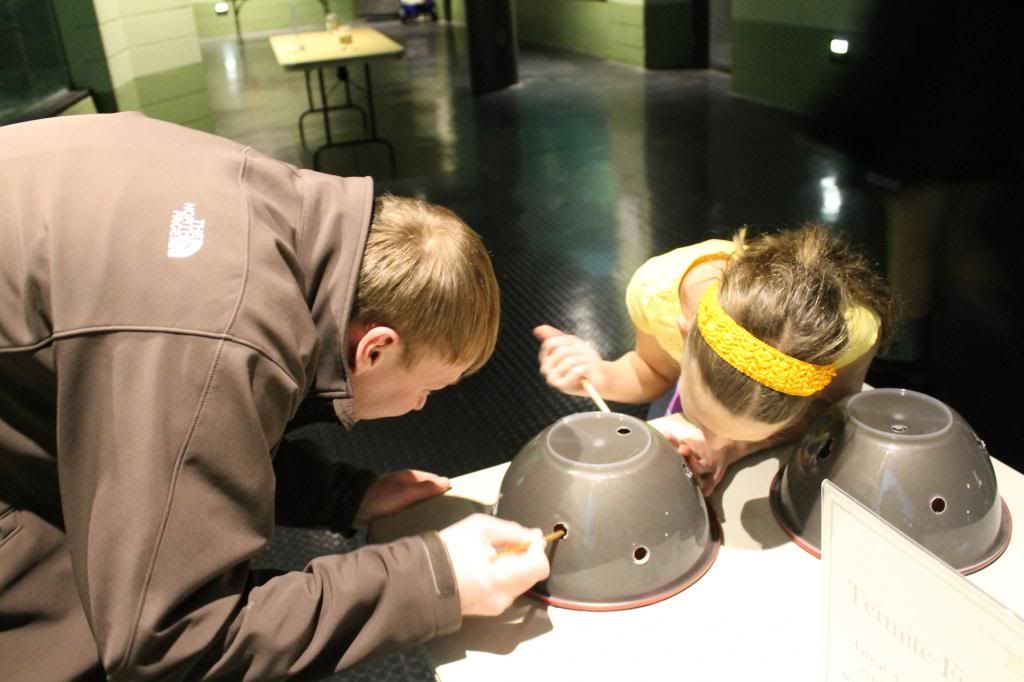 Ben and E attempted to get "termites" out of a "hive"; just like monkeys in the wild
Next stop was the Children's Zoo. Ben and I had never been into this building before. There's a large indoor climbing jungle gym, along with beavers, turtles and a few birds. Beavers are extremely active at night and we enjoyed watching them swim. Occasionally they'd put their paw to the window of the aquarium to "touch" one of our hands. It was a cool experience! They were too quick to get a decent picture though!

Someone needs their window cleaned
We was went back in the Small Mammal/Reptile House.

We painted paper mache pinatas. The zookeepers create these and then put food and treats in them for the animals as part of their "enrichment" program. While we weren't allowed to take our pinatas home, we were told if we came back to visit later in the week, we may be able to find them in some of the animal's areas!

The last portion of the evening was the Animal Encounter, which was a sand snake named Toby. After asking a few questions (like where would they live, what do they eat, etc), anyone who was interested was allowed in petting the snake. I joined in.
We left the zoo and E suggested we go to the new FroYo spot,
Yogurtland
, for dessert. I tell you, she's a girl after my own heart. We all made a treat before going back home to call it a night!
Can you tell who's whose?
Saturday was another gym/study day. Ben had planned on going out with the guys, but plans fell through, so he met me at
Whole Foods
, where I was studying. The Whole Foods (Lincoln Park) in Chicago is amazing. It's a flagship store (and third largest WF in the world) and includes a coffee bar, a beer bar, a wine bar (hello wine and cheese flights), in addition to a plethora of fresh/made-to-order food options. You see people pushing their carts while drinking a beer. (Note: we don't shop here because we already have grocery budget issues as it is. Through beer in the mix, good beer, and we'd be toast!)
Ben was a welcomed distraction after a day of studying.
Goose Island
(Clybourn location), which is where we decided to have dinner. One of the gifts I gave Ben for Christmas was a membership to
American Homebrewers Association
. A benefit of AHA is getting discounts at select craft beer spots, including 20% off at Goose Island! Because I was driving, I had just one beer, although I did choose the strongest at 10% alcohol:
Resolutions
, an imperial coffee stout. I've recently developed a
thing
for stouts, despite their intimidating color. It was awesome!
back
to Whole Foods to grab dinner to take home. I'm picky like that.
I recently started liking sushi, but with Ben being a picky eater, I rarely have an opportunity to have it. I've been craving it for a while, and surprisingly, Whole Foods is a tasty option!
The Following
. Everyone (thank you Chris!) who recommended it is right, it's so good!! We think
Deception
is good, but
The Following
puts it to shame!
Sunday morning I whipped up
these cinnamon rolls
for breakfast before heading out to study, again.
Piece Pizza
(On Sundays they offer a large pizza and growler of beer for $25) and went over to Ben's sisters house to hang out with them and our nephew.
He's 2.5 weeks old now and just darling. He snuggled up to me right away. Melt.my.heart. So sweet!
There's been some concern that he may have colic, but we were there for about four hours and he barely cried for us. It's so fun to see SIL/BIL in this new role and I can't help but wonder what it will be like when our time comes. Seeing Ben walking a baby around and cooing at him is the most adorable thing.
At first I know SIL was overwhelmed, but it seems like she and her husband now have a good routine down. The more they get to know their baby, the better things seem to go. I'm glad they're finally finding a balance and happy we're close by to come help! Or if nothing else, be a distraction!