My past week has absolutely been rocked by the positive experience (and reminder), of what a group of united and dedicated people can do.
Wednesday (4/24) night, I received a top-secret email from the founder of
Chicago English Bulldog Rescue
, warning for the weekend ahead. We'd received an inside tip that one of the most horrendous and infamous puppy mills in Iowa was closing. Saturday (4/27), they would be auctioning off everything (kennels, supplies, and dogs of all breeds).
The typical bulldog at a puppy mill auction sells for about $1,500 (which seems like a lot of money, but breeders easily re-coop that costs by overbreeding the dogs they buy and then selling their puppies.) Our team went fast into action trying to
raise money
for this special mission over the course of Thursday and Friday. A huge thank you is owed to all of the donors, and a special thank you to my friends and family who donated. The funds we raised far exceeded our expectations. The funny thing is that the majority of donations were under $100, but it all adds up. Again, the power of people!
I woke up Saturday morning as giddy as a five year old at Christmas. I could.not.wait.
A team of volunteers went undercover to the auction. They were able to meet with other rescues to ensure that they didn't bid on the same dogs, to save as many as possible. In addition to rescues, there were several Amish puppy millers ready to bid on dogs (about 75-100 bidders total). The auction was held on the breeding grounds and was disgusting; the worse our team has ever seen. The grotesque conditions and smell of ammonia (from urine) literally made people sick.
There were over 250 dogs of various breeds auctioned off, with bulldogs being the last breed. Around 5pm we were notified of an emergency conference call for all volunteers. During the call we learned of the conditions and the what our team had experienced. Small breeds, like chihuahuas, sold for just $10. One benefit to the low amount of bidders was that prices on the dogs were much lower than anticipated.
From previous experience, our team expected to save 12-14 bulldogs, so when they prices were so low, they called our founder to ask what to do, to which she replied "get as many as you can!". It was during the emergency conference call when we learned that our team had been able to save 23 bulldogs!!!! I can't put enough exclamation points to signify the emotion felt through the phone lines, even as I type this now I'm tearing up because it was (and still is) such wonderful news to hear! In addition to 23 bullies, we had enough funds to help other local rescues purchase a miniature pincher and two short haired German pointers.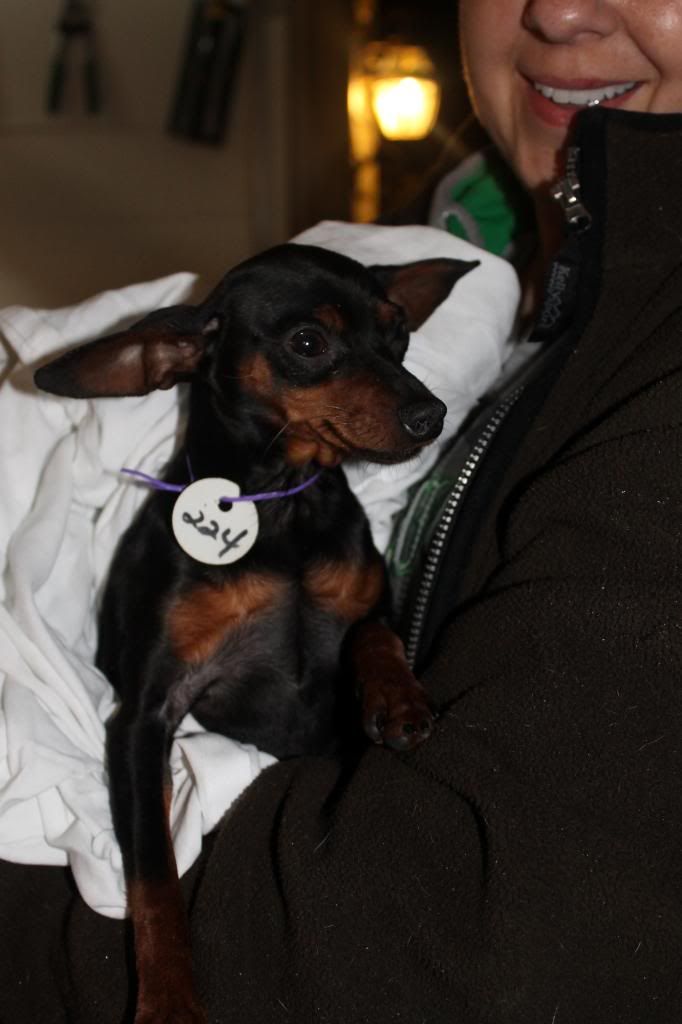 We planned to meet at a volunteer's house in the suburbs at 12am to welcome our caravan of volunteers and dogs. Because we'd gotten so many dogs, we didn't have space in the SUV and U-Haul van the team had taken. Luckily a volunteer's parents lived not far from the auction, so seven dogs were taken there to be housed in the garage overnight until a third vehicle could come get them.
Ben and I went out to dinner with friends and then stopped by Target to pick up some collars and leashes, trying to keep ourselves busy (and awake) before arriving to the 'burbs at 11:45pm. However, when we arrived, we learned that the team had called to say they were slower moving than they'd anticipated and they wouldn't arrive until 2am! About 10 of us we already at the meeting spot, so we made ourselves cozy inside and prepared for arrival.
I can't describe the nervousness and excitement I felt when we walked into the driveway and opened the doors. 16 sweet, innocent and scared faces stared back at us and we got to work.

The only identification, "possession", these dogs had was a piece of string tied around their neck with an ID number on it.
Slowly, one by one, we coaxed dogs out of kennels, checked them in with the paperwork we'd be given, identified them by their physical attributes (coloring, size, tongue hanging out, etc) and ID number. Three medical stations were set up to begin the dirty work of assessing their conditions.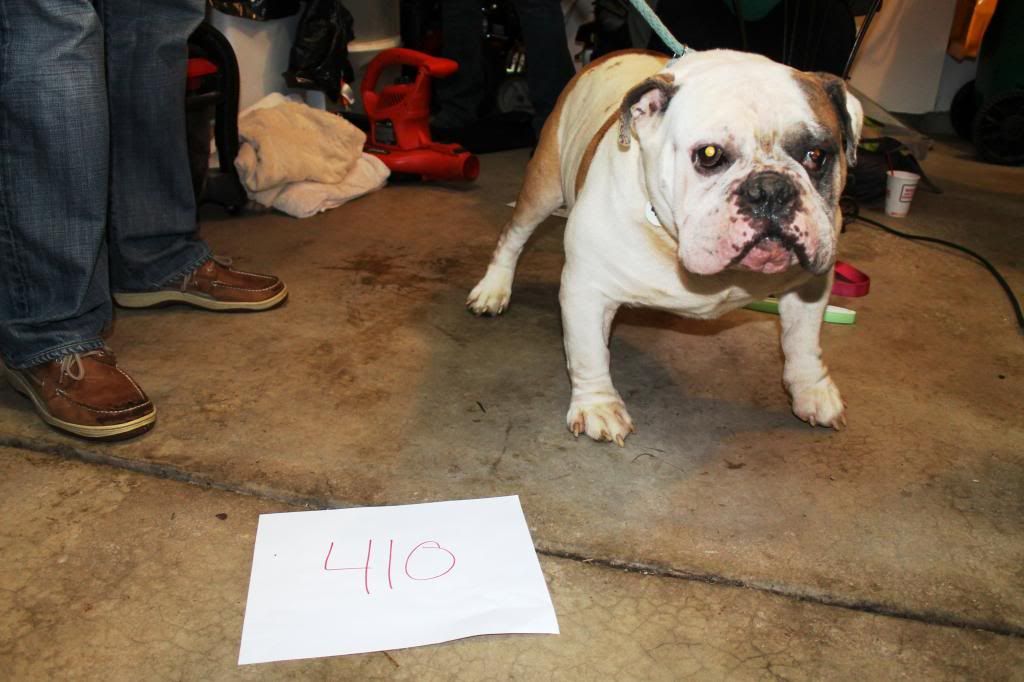 Luckily we have several volunteers with medical experience and degrees on our team. Each team checked the dogs overall initial health, checked to see if they were pregnant (there's a possibility that two are!), cleaned out tail pockets, paws, wrinkles, ears, eyes, etc.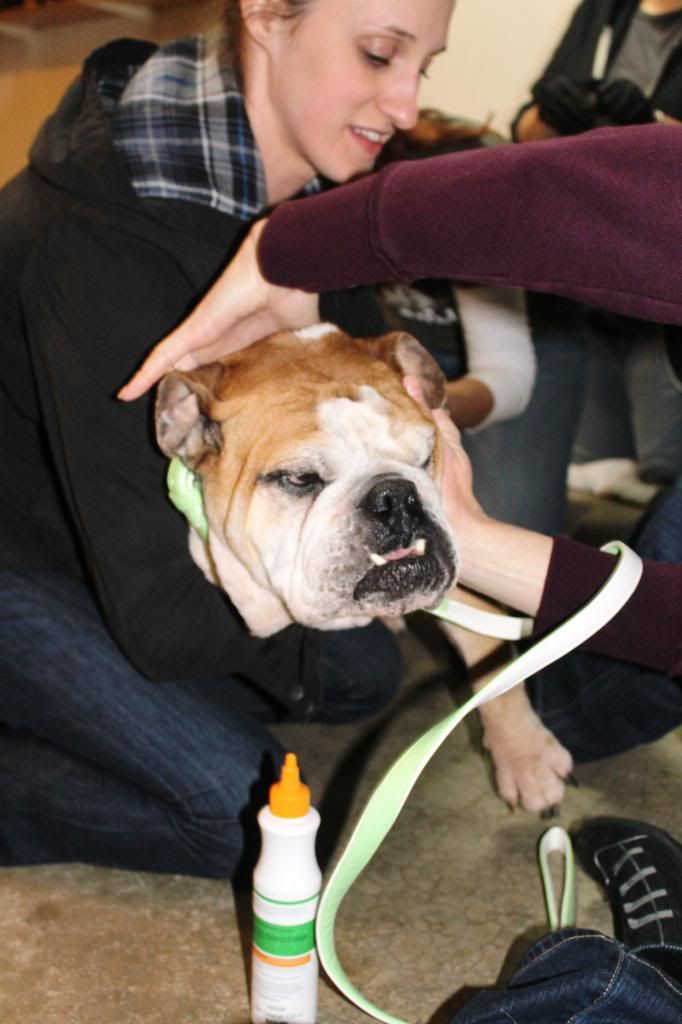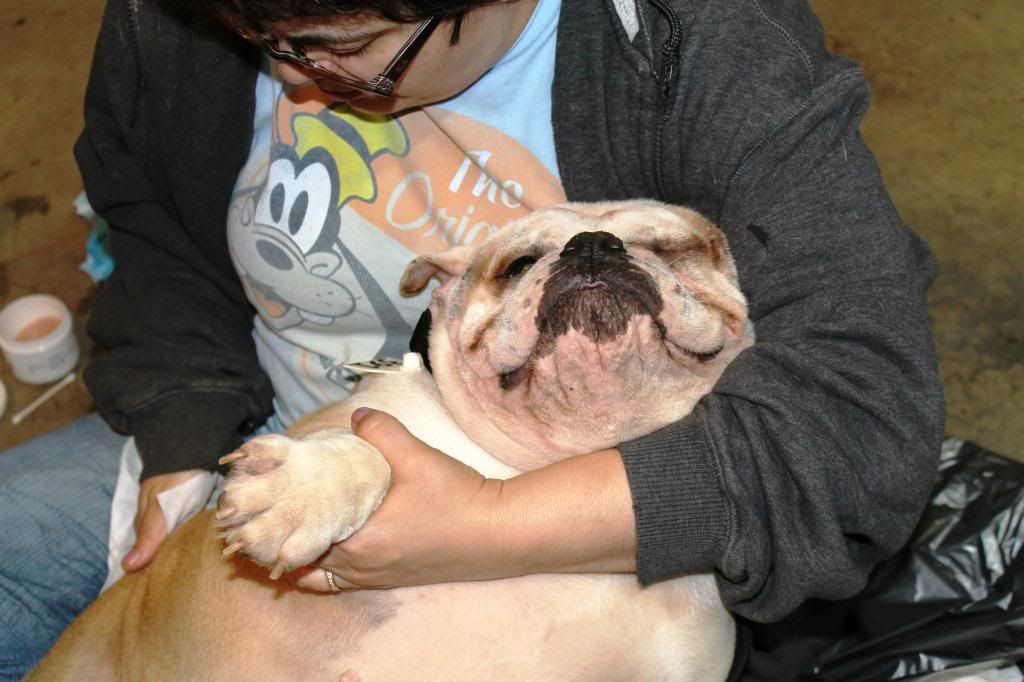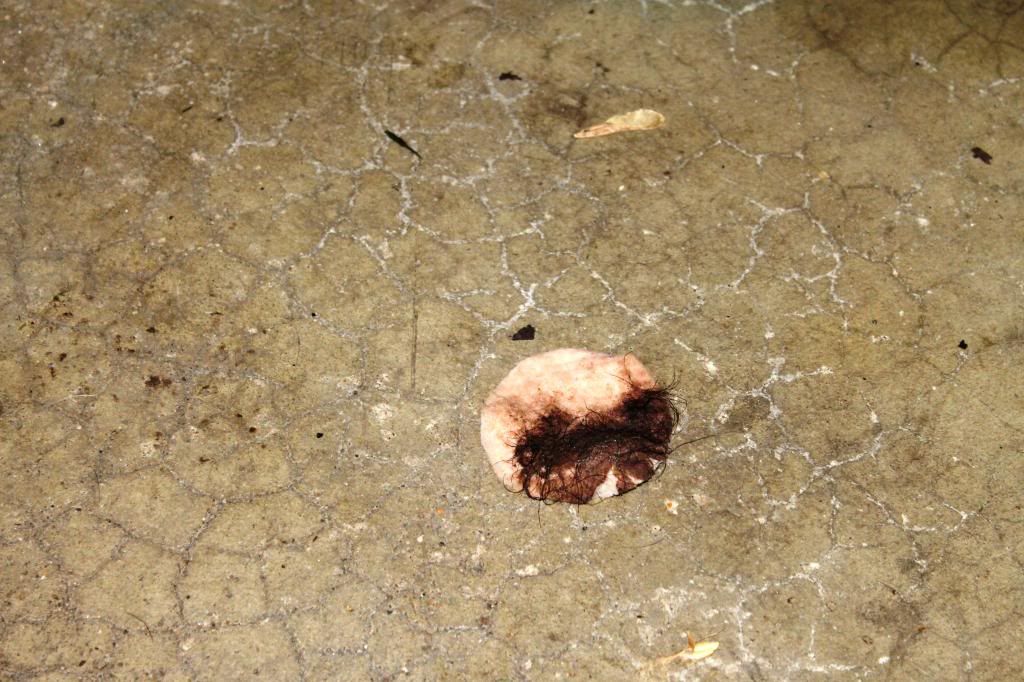 This should be been white; look at the gunk cleaned out!
It truly was a spectacular sight to see ~25 people all attentively working together, nonstop, without complaint, in the wee hours of the morning, to do whatever we could to help these dogs feel safe and get the medical attention they needed. And just to make each dog feel loved!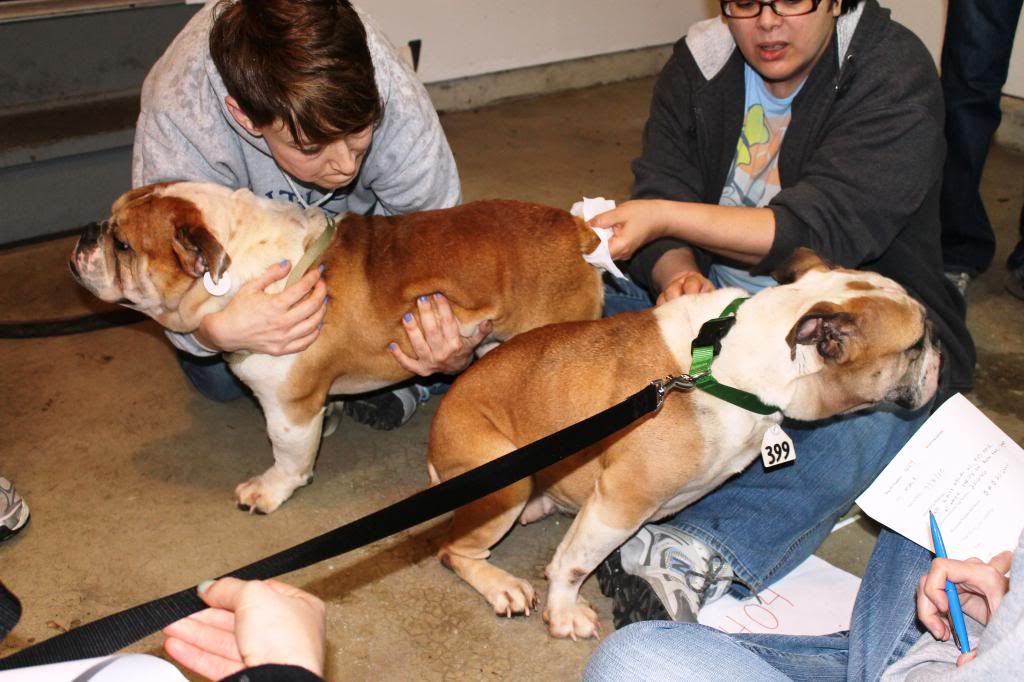 Because of the huge amount of dogs brought in we were in a scramble to figure out foster homes for everony. Of the 16 dogs that arrived while we were there, there were three groups of two.

This pair of sisters was the cutest! Now Laverne and Shirley

Ben and I decided to take two foster dogs. Being able to take a "pair", knowing the two dogs already got along, made us less nervous about our first experience with having two fosters at one time. Our handsome couple, (
as you've seen
) are a male and female, whom we've now named Huey and Bettina (aka Betty).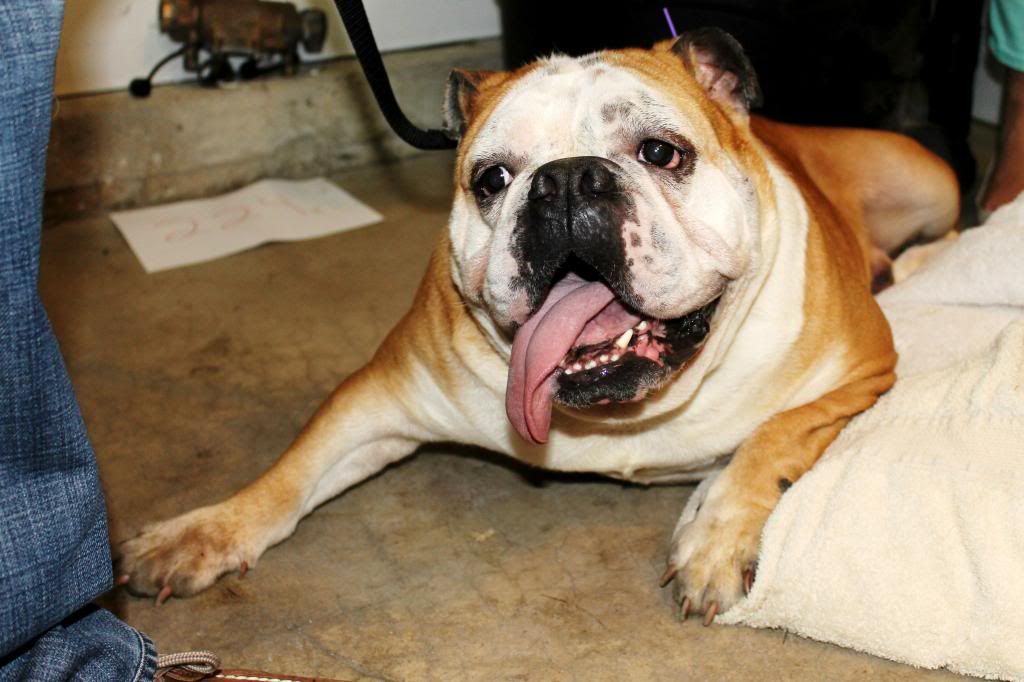 Huey, formerly Mill Male #407
Betty, formerly Mill Female #394

We volunteered to bring a dog to another foster home in the city who was unable to make it to the suburbs. We set our pair up in the back of the car in a kennel together, figuring this third dog would sit in the backseat. Well, not so easy. First, he decided to go poop, in our car. And then he jumped over the seats to see his friends in the back. This all happened in a matter of five minutes as I was trying to turn the car around to leave. We grabbed another kennel for this friend and then we on our way for a 5am drop off to his foster home.
After coaxing our own fosters out of the car kennel and into their kennels in our guest room, we finally laid down at 6am. How is that for an insane day?!
This whole experience has been eye opening and overwhelming for me. I have cried every day since Saturday. Being a apart of something so meaningful and life changing for these dogs, well it gets me all worked up!
To think of each of these 23 dogs living in filth, without the care and compassion they deserve is heartbreaking. Several of the dogs we brought in are unable to fully walk because they've been kept in a cage their entire life and never fully developed their muscles. The majority of these dogs have sores or broken paw pads because they've been forced to stand on wire crates. The medical conditions caused from their former lives is endless. This is Project Mercy and these is the 23 dogs we saved:

While I will continue to post about our fosters, if you are interested in keeping up with the stories of all of the dogs, you can "like" Chicago English Bulldog Rescue on Facebook or follow along
here
.
I have never felt more proud or excited to be a part of something. I have never felt more sure of doing "the right thing" in my life. This is big, this is huge! And all because a group of people found out about a simple event and decided to do something about it. The power of people.